Reflexology is an ancient therapy that comes from several civilizations such as India, Egypt and China. Feet, hands and face are seen as a mini-map of the body. The Reflexologist applies some pressure using thumbs, fingers and hands on reflex areas corresponding to organs, glands and body parts. The aim is to bring the body and the whole person into balance, on the mind, body and spirit levels getting rid any blockages of energy and encouraging self-healing.
Furthermore working on reflex areas generate positive responses to stimuli. The use of nerve pathways creates electro-chemical flows that have an effect on the internal part of the body and nervous system releasing chemicals that support health and well-being. Thus Reflexology helps your body release endorphins which are natural pain killers.

Anne has been amazing! My journey with Anne started about 2 years ago when I was having reflexology every week for a few weeks and was back again for many sessions this year. Anne helped me find a life-work balance and regain self-consciousness. I would recommend Anne to anyone. She's an amazing person with a heart for what she does.
Greystones, Co. Wicklow, Ireland
Safe, effective & non-intrusive holistic therapy suitable for all ages
There is an initial consultation for a 1st Treatment that lasts for a few minutes. This is to evaluate your overall health, life style and diet.
Reflexology is not recommended if you have deep vein thrombosis, are in your first 3 months of pregnancy, or directly after a surgery. Therefore, Reflexology can speed recovery if applied before a surgery. If you have a specific issue, always check with your doctor first. As a complementary therapy, Reflexology doesn't replace conventional medicine and medication.
Keep in mind
In despite of feeling some benefits from a first Reflexology treatment session several sessions are recommended to solve a specific problem as it takes time to heal and to restore
Monitoring progress after each treatment is part of the Reflexology treatment
Clients are asked to follow recommendations the Reflexologist tell them after each treatment for lasting effects and better results
Combination of treatments after a first treatment between foot, hand and face and a second treatment with Indian Head Massage and Energy Healing practice such as IET (for emotional blockage of energy) or Magnified Healing (higher vibratory energy healing) is possible.
What can Reflexology do for you?
Improve blood circulation,
Help reduce stress, anxiety, tiredness, difficulty to sleep,
Relief depression symptoms
Headaches and migraines,
Improve digestion, elimination of waste and toxins
Menstrual problems, irregularities, PMS, easing Menopausal symptoms
Help with Conception and Maternity
Help with sinus congestion, asthma, hay-fever, bronchitis
Neck and shoulder ache
Help with back-ache, sciatic, muscle and joints pain
Arthritis
Skin disorders (eczema)
Post Cancer
Easing symptoms of Fibromyalgia
Easing symptoms of Parkinson's Disease
Reflexology Treatments
A first session of 70 minutes and then 60 minutes sessions afterwards
Traditional Foot Reflexology
Traditional Foot Reflexology in the style of Eunice Ingham e.g. the Mother of modern Reflexology.
Maternity Reflexology
Fertility Reflexology
Reflexology Lymph Drainage (RLD)
60 minutes session to stimulate the function of the lymphatic system and to eliminate excess of lymph thus reducing arm or leg swelling. RLD is also beneficial for fibromyalgia, chronic fatigue, headache, muscular tension and premenstrual syndrome (PMS).
Face Reflexology – The Bergman's Method
60 minutes session of face reflexology combining face, foot or/and hand Reflexology.
Hand Reflexology
60 minutes session combining hand, foot or face Reflexology. In the case of an injured foot, foot missing, the benefits of hand Reflexology are the same as working of foot.
Use of essential oils
Essential oils may be used to clean the face gently followed by frankincense or grapeseed essential oil. Working on reflex areas to detoxify your body from the inside out, giving you a fresh look and at the same time a feeling of being very relaxed and refreshed.
Private Health Insurance Cover & Money Back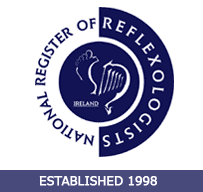 Serene Reflexology practitioners are registered reflexologists with full NRRI membership accredited by VHI Healthcare, Laya Healthcare, Aviva, Irish Life Health and GLO Health for reflexology treatment which means clients who have a policy with any of these Health Insurers may be eligible for a refund for some of their Reflexology costs depending on their level of cover – this applies only to clients from the Republic of Ireland.

Did you know your third Reflexology treatment is actually free at Serene Reflexology if you have a private health insurance plan? Find out more here