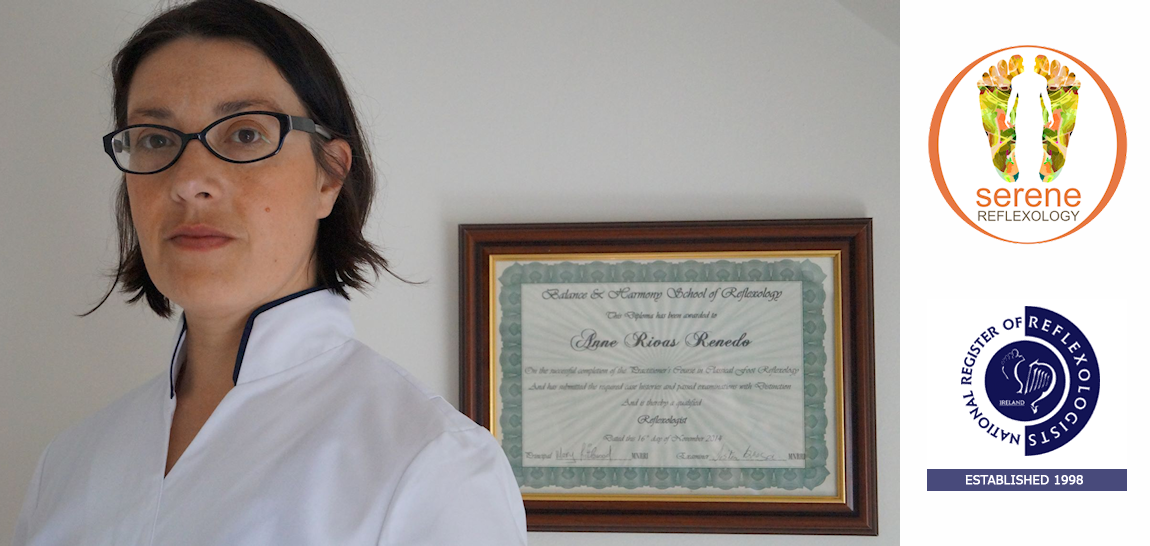 I was speaking to a friend the other day. She told me about Reflexology and said it would be really good for me. I was feeling really down with no energy and not feeling myself. May be early stages of menopause. I made an appointment with Serene Reflexology. So came the day I met Anne and had a chat with her. In her lovely cosy room she made me feel very relaxed and we had a chat about myself, my lifestyle, etc. I had the best session of relaxation. I even fell asleep! I really needed it. It was fantastic! I felt lifted and light. I seemed normal again. I guess you'd say balanced. I would highly recommend Anne – Serene Reflexology – as she has a great gift. Thank You!
Serene Reflexology is a holistic therapy practice operated by Anne Rivas Renedo – a MNRRI Reflexologist- Member of the National Register of Reflexologists Ireland and therefore accredited by VHI Healthcare, Laya Healthcare, Aviva, Irish Life Health and GLO Health for reflexology treatment*.

Anne is a qualified Reflexologist with Anatomy and Physiology within the diploma as well as a member of the National Register of Reflexologist Ireland MNRRI. She has a diploma in Indian Head Massage LCIC and she is also an Energy Healing Practitioner. She is certified in Magnified Healing® phase 1 and 3 and she is qualified in Integrated Energy Healing ®.
Anne's origins come from the South West of France and she has been living in Ireland since 1999. Personal circumstances brought her naturally to holistic health and practice developing awareness in relation to health along the way. Anne's holistic approach is to re-balance mind, body and spirit helping to create a state of homeostasis, assisting to remove blockages of energy and encouraging body's natural ability to heal itself.
God bless her hands, absolutely very gentle and healing lady. I feel 100% when I leave her after a treatment.
Holistic Therapies and practice can be done on its own or in combination according preference and needs. However, it can usually be done from a 2nd Treatment because there is always an initial consultation first.
Anne is always ongoing continuous professional development to provide the best possible services and care to her clients. She favours meditation to support her work in holistic therapy.
Vertical Reflex Therapy The Booth Method
Supporting Conception Sally Earlam Method
Supporting Maternity Sally Earlam Method
Facial Reflexology part 1 The Bergman Method
Cranio-Sacral Reflexology Dr Martine Faure Andelson Method
The Metamorphic Technique from Gaston Saint-Pierre
Occupational 1st Aid Certificate (Fetac 5)
Functional Reflexology Therapy
Energy Healing: Magnified Healing, Integrated Energy Healing
(*) clients who have a policy with any of these Health Insurers may be eligible for a refund for some of their Reflexology costs depending on their level of cover – this applies only to clients from the Republic of Ireland